Leland School District is hosting a District Wide School Parade on Wednesday, October 5, 2022 at 1:30 pm, line-up is at 1:00 pm on the side of the high school by the church. Our students are a "Knock Out" and we are Celebrating Student Achievement and their Academic Success and Growth. Leland School District is a SUCCESSFUL "Level 'C" School District. To top it off, Leland High School is a "Level 'B" School and has produced the Highest Student Achievement Ranking in the Delta for the 2021-2022 School Year. All of this calls for a CELEBRATION!!! We are calling all parents, community leaders and supporters to come out and help us celebrate our students for a well deserved celebrational Shout-Out for their success. There, we will have music, release balloons, have hot dogs, chips and water and other vendors from surrounding areas will be present to sell items from their food trucks. Parents will be allowed to pick up their students after the celebration for those who ride in vehicles. For the students who ride the bus, they will be going home from LHS early.
PARADE ROUTE
1. The parade will start on the left side of the Catholic Church and Leland High School.
2. We will take a right onto Deer Creek Drive
3. At the intersection of Broad Street and Deer Creek, we will take a right on to Broad Street
4. Then we will travel and take a right on 3rd Street
5. Once we are on 3rd Street, we will continue to Leland High School Practice Field behind Edna M. Scott Elementary School
Regular School Board meeting Thursday, October 20, 2022 @ 5:00PM to be held at the Leland High School Library. In person.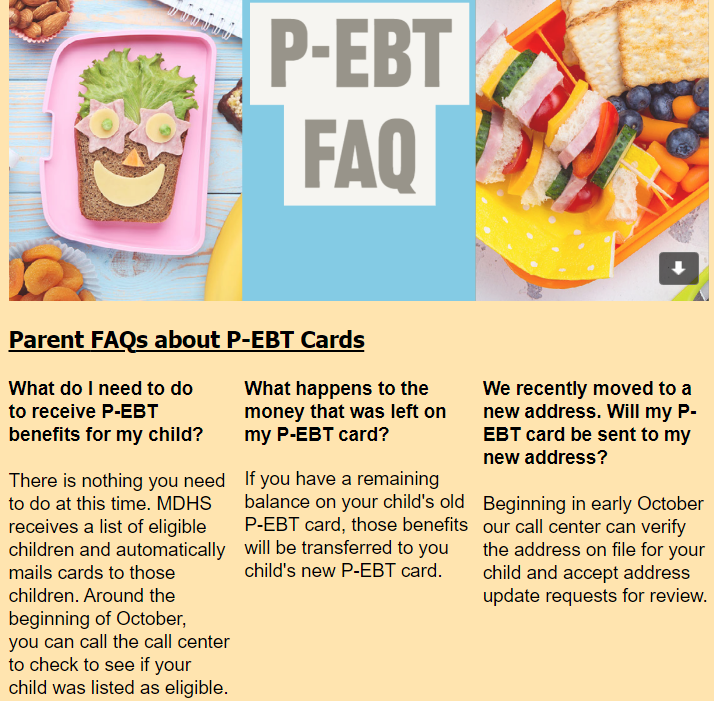 SPECIAL LETTER FROM MDE REGARDING AFFORDABLE CONNECTIVITY PROGRAM (ACP)
We request your help in spreading the word to school food authorities in your States about a new program to lower costs for families and close the digital divide. As part of the Bipartisan Infrastructure Law, the President and Congress created the Affordable Connectivity Program (ACP), which provides eligible households up to $30/month (or $75/month for households living on Tribal lands) toward their internet bills, as well as a one-time discount of up to $100 to purchase a laptop, desktop computer, or tablet.
All households with a child who was approved to receive free or reduced price school meals under the National School Lunch Program or the School Breakfast Program, within the last 12 months, including children who attend schools participating in the Community Eligibility Provision, are eligible for ACP benefits. Households are also independently eligible if (1) their income is at or below 200% of the Federal Poverty Level ($55,500 for a family of four); or (2) a member of the household participates in certain other Federal benefit programs—including, among others, Supplemental Nutrition Assistance Program (SNAP), Special Supplemental Nutrition Program for Women, Infants, and Children (WIC), Medicaid, and Federal Public Housing Assistance.
To further lower costs, the Biden-Harris Administration secured commitments from internet service providers across the country to offer high-speed plans that are fully covered by the ACP. As a result, millions of working families can now get high-speed internet without paying a dime.
Families can check their eligibility, sign up, and find fully covered plans at GetInternet.gov (mobile-accessible and available in Spanish) or by calling 877-384-2575.
About 13 million households have enrolled, but tens of millions more have not yet claimed their ACP benefit. We need your help to ensure all eligible families in your State sign up to save on their internet bills.
To support your efforts, please feel free to use the following resources:
DISTRICT-WIDE MASK MANDATE- "Facemasks are required AT ALL TIMES."
The "All Kids Bike" curriculum will enhance the mobility and cycling skills of Prek- 1st grade students tremendously which is vital to motor skill development
."
- Jessie King, Superintendent
Above is the Parent/Stakeholder survey link for the Leland School District regarding the needs that the community will identify as they relate to the pandemic and schools reopening. The District is asking all parents to please take the survey. Thanks in advance.