The opening of school is right around the corner! School will begin August 4, 2022 for the 2022-2023 school year. Please check your school's website or the school's office for more info regarding registration. Parents can also go to their ACTIVEPARENT accounts to register online.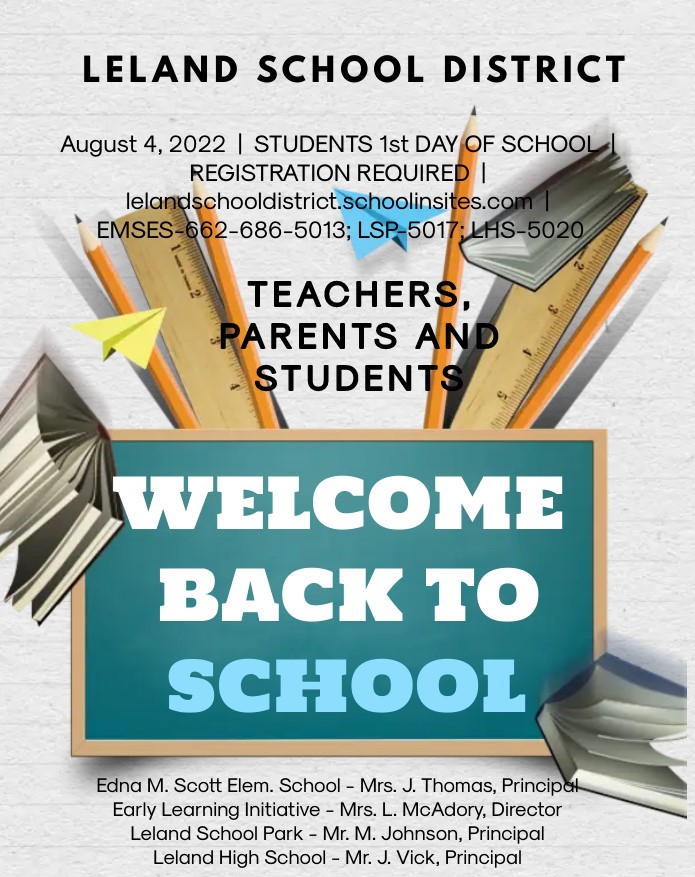 Monthly Board Meeting-Monday, August 22, 2022 @ 5:00 p.m. to be held @ the Leland High School Library.
Message from USDA- DON'T DISCARD YOUR P-EBT CARD!! Please do NOT throw away your P-EBT card, even if you have used all the current benefits. Additional benefits to eligible students may be issued on those same cards for the 2021-2022 school year, if approved by the USDA Food and Nutrition Service. FAQs for the 2022 round of P-EBT These FAQs are now available on our website here: https://www.mdhs.ms.gov/pandemic-ebt-p-ebt/ Messaging regarding the end of 2020-2021 P-EBT The short version is: Client concerns regarding the 2020-21 P-EBT program that were submitted through the P-EBT call center by May 15 have been reviewed. Any issues that could be resolved with current resources and under current federal guidance have been resolved at this time. No additional actions can be taken at this time. Please review the entire attachment for more information, including reasons that requests were denied.
DISTRICT-WIDE MASK MANDATE- "Facemasks are required AT ALL TIMES."
The "All Kids Bike" curriculum will enhance the mobility and cycling skills of Prek- 1st grade students tremendously which is vital to motor skill development
."
- Jessie King, Superintendent
Above is the Parent/Stakeholder survey link for the Leland School District regarding the needs that the community will identify as they relate to the pandemic and schools reopening. The District is asking all parents to please take the survey. Thanks in advance.